Josephine Baker
During the first three days of our Dordogne tour, it's hard to miss that Josephine Baker used to live here.
She was in the headlines again last November, 46 years after her death, when it was announced that she would be reburied in the Panthéon, in Paris.
This was quite a big deal, and here's why.
When we used to run a Paris tour – still my all-time favourite Chain Gang tour, but hard to sell, as it turned out – we used to visit the Panthéon. It's modelled on the Pantheon in Rome, a miracle of lightweight construction, but that's for another day. The Parisian Panthéon was begun as a church, named for Saint Genevieve, patron saint of Paris. Sadly for Louis XV, the French Revolution intervened before completion, and in 1991 it was voted to be used as a mausoleum for the remains of distinguished French citizens.
Virtually every French person you've ever heard of who ain't a King or Queen is buried here (the royals are buried are all buried in St Denis). Voltaire, Rousseau, Victor Hugo, Emile Zola, Antoine de St Exupéry (who we 'meet' on our Bordeaux tour), Jean Moulin, leader of the Resistance (who we 'meet' in Provence), Alexandre Dumas (obvs!).
And now Josephine Baker, only the 6th woman to be granted the honour, and the first black woman.
But Why? (Get on with it!)
Josephine had a few strings to her bow. She first came to fame as an entertainer. Ernest Hemingway described her as "…the most sensational woman anyone ever saw", and Shirley Bassey paid tribute when she said "…I have never seen, and probably never shall see again, such a spectacular singer and performer."
She left the USA to escape racism, 'I just couldn't stand America'. She became a huge star of the Folies Bergères in Paris, a big enough star to be invited to 'Le Grand Départ' of the Tour de France 4 times in the 1930s.
But none of this is why she's ended up in the Panthéon. During the 2nd World War she worked as a spy for the allies, and not in a small way. Working for the French Deuxieme Bureau intelligence agency, she collected intelligence as she socialised in Nazi-occupied Paris. She hid people and procured visas on behalf of De Gaulle's Free French Army, in which she was a Lieutenant. She smuggled documents through Portugal, and later moved to Morocco where she set up a resistance centre, collecting and distributing intelligence gathered on tours of Spain.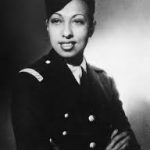 After the war, Josephine was awarded The Resistance Medal, the Croix de Guerre, and was made a Chevalier of the Légion d'honneur by Charles de Gaulle.
In 1949 she returned to the USA, was a big success and returned to Paris as one of France's biggest stars. Invited back to Miami in 1951 she was instrumental in a public battle to desegregate her audience, and was the National Association for the Advancement of Colored People (NAACP)'s 'Woman of the Year'. She caused further controversy, bringing racism charges against The Stork Club in New York when she was refused service. Grace Kelly left the club with her, vowing never to come back (which turned out to be a slight lie, but good on Gracie for the thought). Baker and Kelly remained life-long friends. When Josephine Baker died in 1975, she was buried in Monaco, home of (by now) Princess Grace. She's actually still buried there – samples of soil from the cemetery are symbolically interred in the Panthéon.
So this was how Josephine Baker became a leader of the American civil rights movement. And on a very famous stage indeed, in 1963, when Martin Luther King Jr gave his "I have a dream" speech, that day there was one official female speaker. Josephine Baker, in her uniform of the Free French Army. Here's part of her speech, which I love:
"I have walked into the palaces of kings and queens and into the houses of presidents. And much more. But I could not walk into a hotel in America and get a cup of coffee, and that made me mad. And when I get mad, you know that I open my big mouth. And then look out, 'cause when Josephine opens her mouth, they hear it all over the world"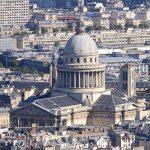 And that's why this extraordinary woman became the first black woman to be 'buried' in the Panthéon.